Finally, a nose-to-tail protein mix that tastes good!
Now you can get access to the world's most nutritious food—organs—in a simple once daily drink. It also includes 21g protein per serving!
Each serving features high-quality beef protein and nutrition you can only get from organs, including:
21g of high-quality grass-fed beef isolate protein
250mg complex: Beef heart, liver, kidney, spleen, pancreas, blood, bone & marrow, colostrum
Try one of our perfectly balanced chocolate and vanilla flavors to find your new daily routine—one you'll look forward to!
Mix with water, milk, or make your own shakes and recipes.
Regular price
Sale price
$79
Unit price
per
Sale
Sold out
Rendering loop-subscriptions
10% off subscription products

Free Shipping

Flexible Delivery Schedule

Skip or Cancel anytime
View full details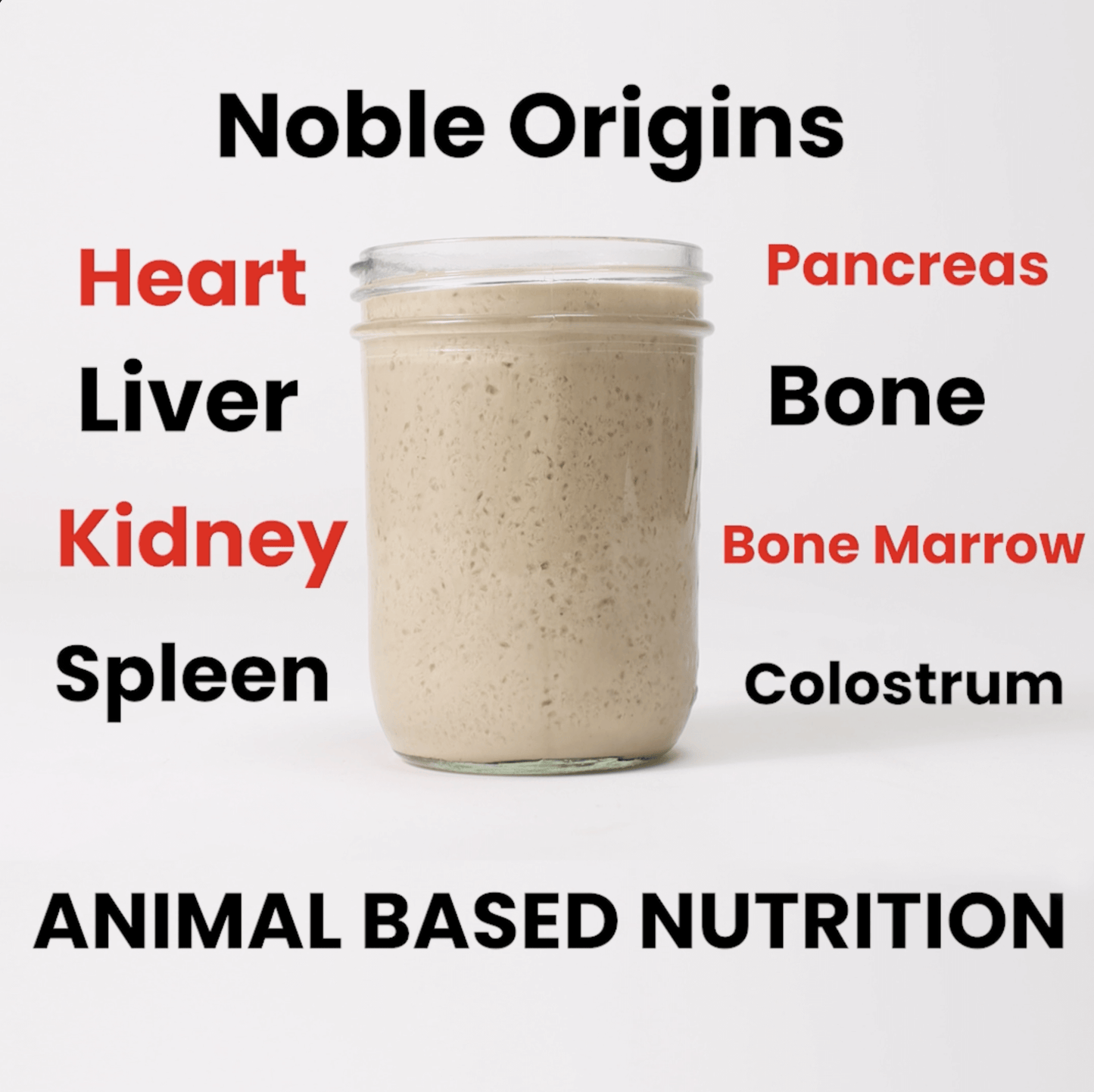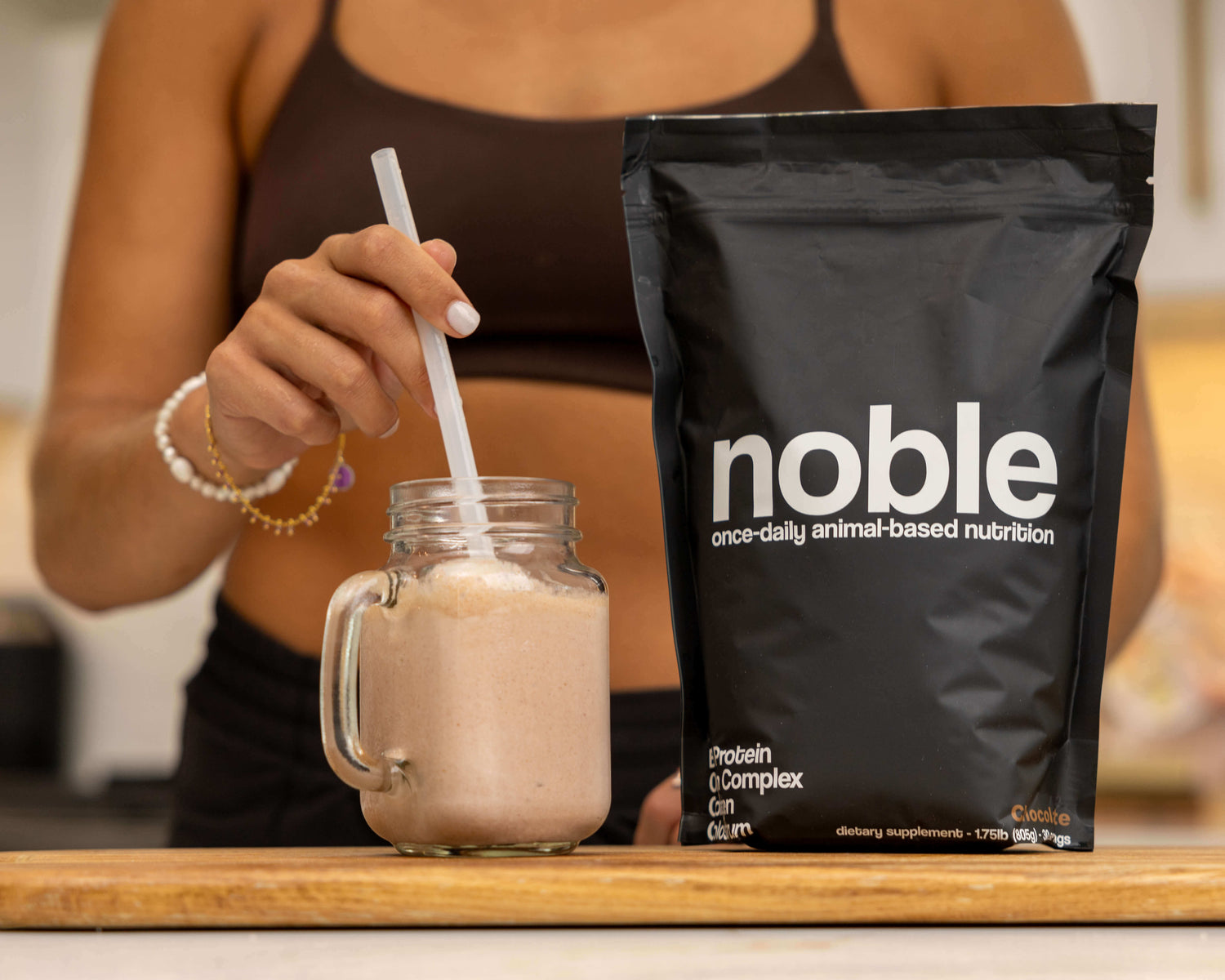 A Better Daily Protein
Easier To Digest

Many proteins are tough on the gut. Noble is Whole-Food sourced and highly bioavailable

More Complete Nutrition

Using the whole chow, Noble offers a superior nutritent profile

Nothing Fake

Only pure, real, whole food sourced ingredients

High Absorption

High bioavailability compared to most options on the market
Embracing The Power of Beef
Not eating enough protein? Struggling with fatigue and poorly absorbing protein powders? Noble is the solution.
Noble Vs the Rest
While others give you bloat and fillers, Noble offers pure, animal-sourced protein. No more settling. Choose clean, choose Noble. Feel the difference.
| | Noble | Competitor X |
| --- | --- | --- |
| Protein Source | Animal-sourced (organs, collagen, colostrum) | Often whey or plant-based |
| Digestibility | Bloat-free, highly absorbable | Common bloating issues |
| Ingredient Transparency | Whole animal sourced, no hidden fillers | May contain fillers & additives |
| Dietary Alignment | Paleo, Keto, and Carnivore friendly | Unknown farming practices |
| Environmental Commitment | Supports regenerative agriculture | Potential allergens present |
| Allergen Consideration | No soy, wheat, lactose, or gums | Varies by product |
| Value Proposition | Comprehensive nutrient profile from nose-to-tail beef organs | Often just basic protein |
| Customer Support | Strong commitment to customer happiness | Standard support |
Noble FAQ
Where is it sourced?

We source from farms in New Zealand.
Where is it made?

Proudly in the United States
What is Silicon Dioxide?

It is a all-natural anti-caking agent and helps with mixing in liquids so you don't get clumps.

Silicon dioxide, also known as silica or SiO2, is a naturally occurring compound. It's made of silicon and oxygen. Both elements are abundant on our planet. If you've held a rock or touched sand, you've encountered silicon dioxide

Certain studies have shown that silicon is an essential mineral for the body and helps build strong bones, hair, nails, and teeth. It may have anti-aging effects and help prevent symptoms tied to deficiencies in silicon, such as:

• abnormal growth

• weak bones

• deformities in skull and peripheral bones

• joint pain

• poor mineral balance
Is it tested?

Every Noble batch is third-party tested for purity and quality.
What are the Vanilla Ingredients?

Ingredients: Grass-Fed Beef Protein Isolate, Nose-to-Tail Organ Blend (Bovine Heart, Liver, Kidney, Spleen, Pancreas, Blood, Bone & Marrow, Colostrum), L-Leucine, Himalayan Rock Salt, Xanthan Gum, Stevia, Natural Vanilla Flavors, Silica
What are the Chocolate Ingredients?

Ingredients: Grass-Fed Beef Protein Isolate, Nose-to-Tail Organ Blend (Bovine Heart, Liver, Kidney, Spleen, Pancreas, Blood, Bone & Marrow, Colostrum), L-Leucine, Himalayan Rock Salt, Dutch Cocoa Powder, Xanthan Gum, Stevia, Natural Chocolate Flavors, Silica
Is it normal to have those black specks inside the vanilla flavored Noble supplement?

Yes. Some of the organs don't dehydrate that fine so you get small bits of organs in the powder!
How many organs and colostrum per serving?

Per serving – 250mg total of the following: Beef Heart, Beef Liver, Beef Kidney, Beef Spleen, Beef Pancreas, Beef Blood, Beef Bone & Marrow, Colostrum Powder
What is the natural flavor?

These are proprietary flavors derived from vanilla beans. They make drinking your nose-to-tail nutrition easy and enjoyable.
Is there whey protein in Noble?

Nope! There is no whey in this product.
What is your return policy?

We will accept all unopened product back for a full refund (minus shipping).

We are glad to offer a 50% refund on any open product if you aren't fully satisfied with the product.